The
yugoloth
are another name for daemons, a kind of
neutral evil
extraplanar
outsider
.
[2]
 They are the most prominent inhabitants of the plane of
Mabar, the Endless Night
.
[3]
Types of Yugoloth
Edit
Appearance & Personality
Edit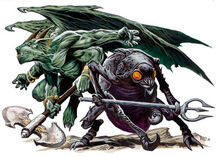 Abilities
Edit

Notable Personalities Edit
Keith Baker has suggested on his website that the Captain may be a rogue yugoloth or secretly working to further the themes of despair as present on the plane of Mabar.[6]
External Links
Edit
References
Edit
Community content is available under
CC-BY-SA
unless otherwise noted.