The Shadow Marches are little more than fetid backwater swamps where Orcs have lived for thousands of years. Still, a glimmer of civilization lingers here, if one has enough tenacity and endurance to seek it out.
Location
Edit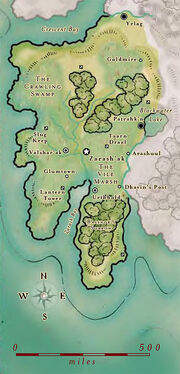 The Shadow Marches lie in the lowlands west of the Byeshk Mountains and south of Crescent Bay. The hills bordering the swamps and marshes of the Shadow Marches start at the southwestern tip of crescent bay and wrap east and south to Blackwater Lake where Patrahk'n lies at the edge of The Vile Marsh. The Watching Wood forms the rest of the eastern barrier for the Marches. To the south of the Marches, Balinor's sorrow stands a solitary monitor to the swamp's progression past Unthold, while Zarash Bay acts as water source and custodian of the marshlands south of Lantern Tower as well as the primary sea access to Zarash'ak. To the west lies the ocean.
Power Groups
Edit
Under Galifar
Edit
The Last War
Edit
Cities and Settlements
Edit
Other Notable Features
Edit
External Links
Edit
References
Edit
Keith Baker, Bill Slavicsek, and James Wyatt (2004). Wizards of the Coast. ISBN 0-7869-3274-0.
James Wyatt, Keith Baker, Luke Johnson, Steven Brown (2006). Wizards of the Coast. ISBN 0-7869-3912-5.