Syrania, callled the Azure Sky, is one of the planes. It is an endless expanse of blue skies where large floating cities dot the skyline, each inhabited by angels.[1]
Inhabitants
[
]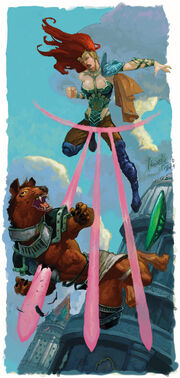 Manifest Zones
[
]
The most famous manifest zone of Syrania is in Sharn, the City of Towers. It is this manifest zone that keeps Sharn's many towers afloat.[1][3]
Effects
[
]
When Syrania is coterminous, the skies become bluer, and it is possible to cross the boundaries between Syrania and Eberron just by flying high into the atmosphere.[1]
When Syrania is remote, the sky turns grey and lightless black at night.[1]
History
[
]
This article or section is about elements from
This is not considered
Eberron
canon, but is included for interest and inspiration for your own Eberron games.
In Vult, 998 YK, a rogue warforged attempted to sever the manifest zone between Syrania and Sharn, but was stopped by inquisitive Abraxis Wren.[5]
Appendix
[
]
References
[
]
Connections
[
]