Raise a Floppa - The Loop
Play Sound
The githyanki are a race of psionic humanoids formerly dominated by the mind flayers.[4][5][6] They escaped their bondage and now reside in fortresses in the Astral Plane.[4][5][6]
History 
[
]
The githyanki were encountered 9,000 years ago during the daelkyr invasion from Xoriat.[5]
It is possible the mind flayers created the githzerai and githyanki on their own, or corrupted them from human or hobgoblin stock.[5][7] Another theory holds that the mind flayers were created when the daelkyr destroyed the native world of the gith. This would make mind flayers the gith version of creatures such as the dolgaunts and the dolgrim.[8]
The githyanki and githzerai escaped from the mind flayers after the Gatekeeper druids pushed the realm of Xoriat far from from the Material Plane and disrupted the invasion.[5] The githyanki fled to the Astral Plane, founding the city of Tu'narath, while the githzerai moved to Kythri, the Churning Chaos.[5][9]
Some githyanki are said to still reside on the Material Plane.[5] There are even rumors of githyanki civilizations in the jungles of Xen'drik.[10][11] Other githyanki dwell in military enclaves near the entrance to Khyber, such as Katal Hazath.[5]
Appearance & Personality
[
]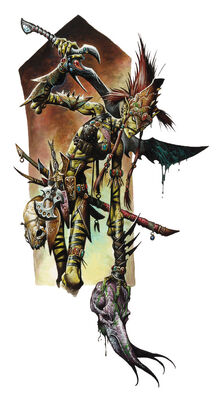 Githyanki are gaunt humanoids with sallow yellowish-green skin, pointed ears, and bony protrusions from the ends of their joints.[4][6] They despise the mind flayer servants of the daelkyr.[5][6]
The githzerai and githyanki do not get along, though both hate the mind flayers more than they do each other.[5] This may be a result of the two belonging to distinct slave castes under the rule of the mind flayers.[5][7]
The githyanki of Eberron lack the connection to the red dragons they have in other campaign settings.[5]
Abilities
[
]
Githyanki are a psionic race, and skilled warriors with their iconic silver swords.[4][6]
Notes
[
]
This article or section is about elements from
This is not considered
Eberron
canon, but is included for interest and inspiration for your own Eberron games.
Keith Baker has suggested on his website that the mind flayers may be the result of the daelkyr corrupting the original progenitor race of both the githzerai and the githyanki.[12]
Keith suggested that his idea for the original home of the Gith progenitors has changed from another world in the same Material Plane of Eberron to a demiplane within Khyber.[13]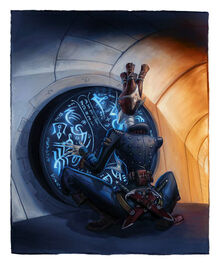 Appendix
[
]
External Links
[
]
References
[
]