This article or section is about elements from
This is not considered
Eberron
canon, but is included for interest and inspiration for your own Eberron games.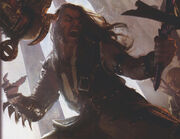 Geth is a fictional character created by author 
Don Bassingthwaite
 in his novel series 
The Dragon Below
Abilities
Edit
Due to his shifter heritage, Geth is able to summon certain aspects of his lycanthrope ancestry, making his skin tougher and his body more resistant to physical damage. His sword allows him to understand the speech of Goblinoid races.
Biography
Edit
Geth served with Singe in the Frostbrand during the Last War. After the massacre of Narath he wandered Khorvaire until he found refuge in Bull Hollow, a small village in the Eldeen Reaches. During the course of events that take place in the Dragon Below Trilogy, Geth recovers the ancient Dhakaani byeshk blade named Wrath from the Daelkyr stronghold of Jhegesh Dol in the Shadow Marches. There is a lot of hostility between Singe and Geth due to the fact that Singe believes that Geth deserted his position when the Frostbrand was stationed in Narath, causing the eventual disgrace of Robrand d'Deneith.
Adventuring Companions
Edit
References
Edit
Community content is available under
CC-BY-SA
unless otherwise noted.